Citroën SM carrosserie 00 SB 2212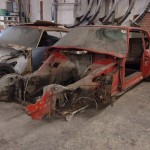 Citroën SM carrosserie
Empty, rust-free bodywork with sunroof and slight damage to the right rear.
Good basis for restoration. For example: continue driving your own SM, restore this bodywork completely and then transfer all parts. The body is also for sale with all doors, mudguards, front and rear door.
All work is possible in our workshop.
Price empty body 3000 euro
Make an appointment for more info and the special price if the work is done by us.